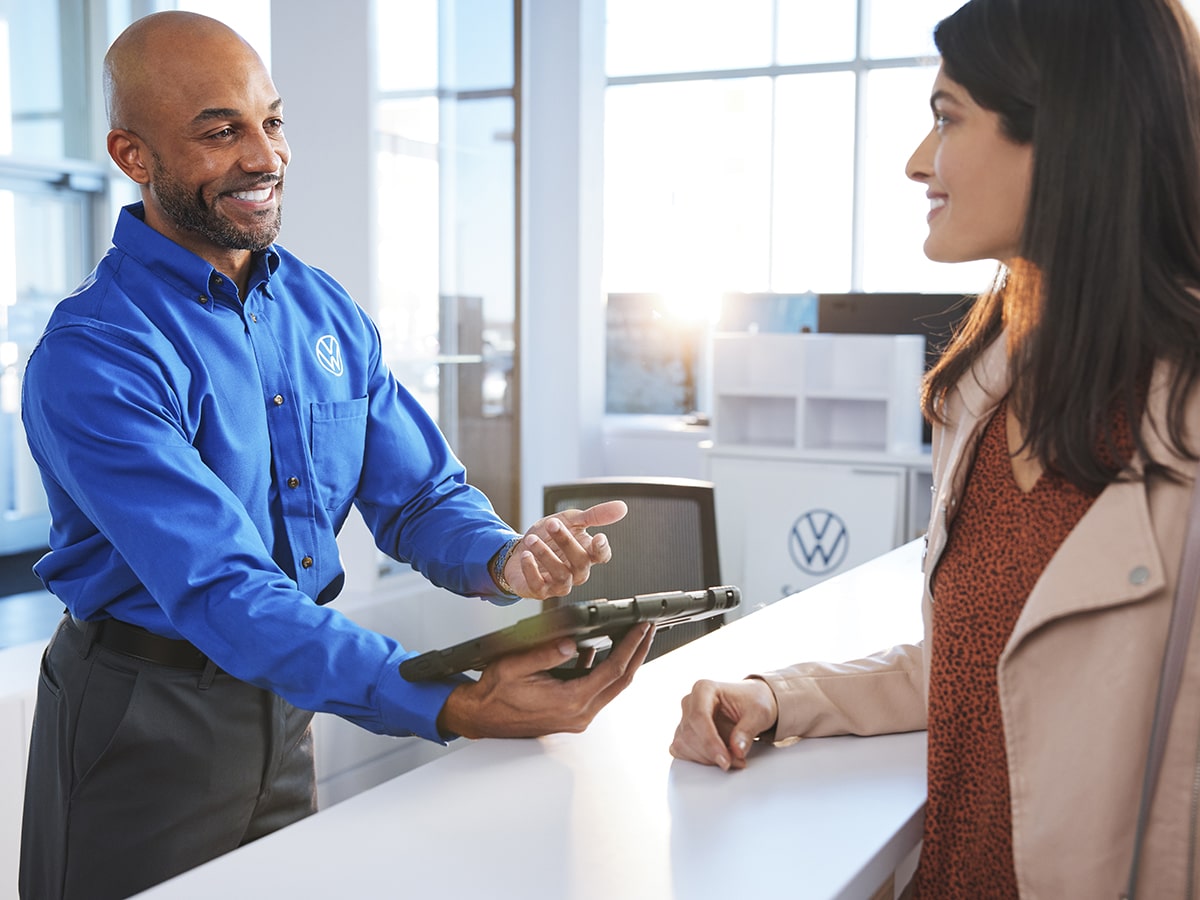 Schedule Service Online
Keeping up with maintenance is the most important thing you can do to help your Volkswagen last longer. At Oklahoma City Volkswagen, we make it even easier to keep up with maintenance by providing simple online service scheduling. Not only can you schedule a service appointment online, but you can also be confident that you're getting the best service when you visit us.
Getting Started
The first thing you need to do if you want to schedule a service appointment online is enter your email address or phone number on the scheduling page. Once you've done that, we'll ask for a little more information to figure out what kind of vehicle you have and what you need us to do. Here are some of the things we'll ask you about:
Vehicle: By providing the make, model, and year of your Volkswagen, you make it easier for us to service your vehicle quickly.
Services: Once you've selected your vehicle, you can tell us about which services you need.
Transportation: If you're not able to drive your vehicle to us, we can arrange transportation at this point.
Appointment: Once you've provided all the necessary information, you can choose an appointment time.
A Helping Hand
If you're not finding it easy to schedule Volkswagen service online, you can always talk with an expert using our live chat feature. You don't have to worry about making an uncomfortable phone call or waiting around on hold all day when you can simply chat with a representative. You can even text us using the button in the bottom-right corner of the screen.
Certified Service and OEM Parts
Getting quality service is an important part of driving a Volkswagen, and that means visiting a Volkswagen dealership. When you come see us at Oklahoma City Volkswagen for Volkswagen service, you get the benefit of both experienced technicians as well as OEM parts. Whether you're looking for a simple oil change, a brake pad replacement, or transmission work, you can count on getting the best parts and service when you visit a certified Volkswagen technician.
---
Why Choose Oklahoma City Volkswagen?
Finding a good dealership to take your Volkswagen to can be tough, but it's so important to have a professional on your side. At Oklahoma City Volkswagen, we make it easy to get the best service by allowing you to quickly schedule online and chat with a representative in no time. Plus, we use OEM parts that are installed by certified technicians, so you always get excellent service. If you're in need of Volkswagen maintenance or repairs, fill out our online scheduling form to schedule an appointment with Oklahoma City Volkswagen today.